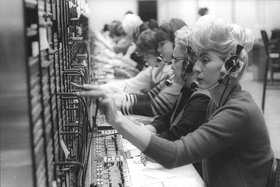 History of the VoIP and Hosted PBX Services: A virtual PBX is a private branch exchange (PBX) phone system that is delivered as a hosted service. The concept of VoIP (Voice over Internet Protocol) originated in about 1995, when hobbyists began to recognize the potential of sending voice data packets over the Internet rather than communicating through standard telephone service. This concept allowed computer owners to avoid long distance charges, and it was in 1995 that the first Internet Phone Software appeared. While contemporary VoIP uses a standard telephone hooked up to an Internet connection, early efforts in the history of VoIP required both callers to have a computer equipped with the same software, as well as a sound card and microphone. These early applications of VoIP were marked by poor sound quality and connectivity, but it was a sign that VoIP technology was useful and promising.
VoIP evolved gradually over the next years, gradually reaching the point where some small companies were able to offer PC to phone service in about 1998. Phone to phone service soon followed, although it was often necessary to use a computer to establish the connection. Like most Internet applications in the late 1990's, early VoIP service relied on advertising sponsorship to subsidize costs, rather than by charging customers for calls. The rapid introduction of broadband Ethernet service in the late 1990's allowed for greater call clarity and reduced latency, although calls were still often marred by static or difficulty making connections between the Internet and PSTN (public telephone networks). However, startup VoIP companies were able to offer free calling service to customers from special locations.
In 1999 a young man named Mark Spencer was finishing his Computer Engineering degree at Auburn University when he hit on an interesting business concept. This was the high point in the dot com revolution, and thousands of businesses world-wide were discovering that they could save money by using the open source operating systems like Linux in place of proprietary operating systems. The lure of a free operating system with open access to the source code was too much to pass up. Unfortunately there was little in the way of commercial support available for Linux at that time. Mark decided to fill this gap by creating a company called "Linux Support Services". LSS offered a support hotline that IT professionals could (for a fee) call to get help with Linux.
The idea took off. Within a few months, Mark had a small office staffed with Linux experts. Within a few more months the growth of the business expanded demanded a "real" phone system that could distribute calls evenly across the support team, so Mark called up several local phone system vendors and asked for quotes. Much to his surprise, the responses all came back well above $50,000 -- far more than Mark had budgeted for the project. Far more than his company could afford.
Rather than give in and take out a small business loan, Mark made a fateful decision. He decided to write his own phone system. A phone system is really just a computer running phone software, right? Fortunately for us, Mark had no idea how big a project he had take on. If he had known what a massive undertaking it was to build a phone system from the ground up might have gritted his teeth, borrowed the money and spent the next decade doing Linux support. But he didn't know what he didn't know, and so he started to code. And he coded. And he coded.
Mark had done his engineering co-op at Adtran, a communications and networking device manufacturer in Huntsville, AL. There he had cut his teeth on telecommunications system development, solving difficult problems generating a prodigious amount of complex code in short time. This experience proved invaluable as he began to frame out the system which grew into Asterisk. In only a few months Mark crafted the original Asterisk core code. As soon as he had a working prototype he published the source code on the Internet, making it available under the GPL license (the same license used for Linux).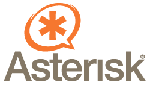 Within a few months the idea of an "open source PBX" caught on. There had been a few other open source communications projects, but none had captured the imagination of the global population of communications geeks like Asterisk. As Mark labored on the core system, hundreds (now thousands) of developers from all over the world began to submit new features and functions.
People often tend to think of Asterisk as an "open source PBX" because that was the focus of the original development effort. But calling Asterisk a PBX is both selling it short (it is much more) and overstating it (it can be much less). It is true that Asterisk started out as a phone system for a small business but in the decade since it was originally released it has grown into a universal tool for building communications applications. Today Asterisk powers not only IP PBX systems but also VoIP gateways, call center systems, conference bridges, voicemail servers and all kinds of other applications that involve real-time communications.
Asterisk is not a PBX but is the engine that powers PBXs. Asterisk is not an IVR but is the engine that powers IVRs. Asterisk is not a call center ACD but is the engine that powers ACD/queueing systems.
Asterisk is to communications applications what the Apache web server is to web applications. Apache is a web server. Asterisk is a communication server. Apache handles all the low-level details of sending and receiving data using the HTTP protocol. Asterisk handles all the low level details of sending and receiving data using lots of different communication protocols. When you install Apache, you have a web server but its up to you to create the web applications. When you install Asterisk, you have a communications server but its up to you to create the communications applications.
The real breakthrough in VoIP history came when hardware manufacturers such as Cisco Systems and Nortel started producing VoIP equipment that was capable of switching. What that meant was that functions that previously had to be handled by a computer's CPU, such as "switching" a voice data packet into something that could be read by the PSTN (and vice versa) could now be done by another device, thus making VoIP hardware less computer dependent. Once hardware started becoming more affordable, larger companies were able to implement VoIP on their internal IP networks, and long distance providers even began routing some of the calls on their networks over the Internet.
Since 2001, VoIP usage has expanded dramatically. There are several different technical standards for VoIP data packet transfer and switching and each is supported by at least one major manufacturer - no clear "winner" has yet emerged to adopt the role of a universal standard. While companies often switch to VoIP to save on both long distance and infrastructure costs, VoIP service has also been extended to residential users. In just a few short years, VoIP has gone from being a fringe development to a mainstream alternative to standard telephone service.
---
Carolina Digital Phone offers benefits and deploys Asterisk based servers and within the core network uses Asterisk servers for gateway switches, tenant servers, lowest cost call terminate servers and billing platforms. Our technology can free companies from having to invest in the costly equipment of a complex business phone system. This enables your company to utilize telephony features like voicemail, follow-me, find-me, call routing, call groups, call parking and pickup, three-way calling, call transfer, faxing, automated greetings, touchtone menus, conference calling-on-demand, call auditing, and calling logs. Virtual PBX companies handle call routing, or switching, at their own at a center location and are responsible for managing all of the PBX equipment and software involved in the virtual PBX service. Hosted PBX services can function over the Public Switched Telephone Network (PSTN), over the Internet (hosted IP PBX via Internet telephony, or VoIP), or over a combination of the two. Hosted PBX features provide huge savings and increased productivity for businesses.
In Greensboro you can get a
VoIP based Hosted PBX Internet telephone service that is state-of-the-art technology for your business. Our hosted PBX VoIP (
Voice over internet protocol) internet phone services allows you to keep your local Greensboro number. And new numbers anywhere in North Carolina are available for immediate activation. Ready to expand to a new market? You can quickly get a telephone number in
New York City,
Atlanta,
Los Angeles or even
London, England for just a few dollars a month that will ring directly to your business in Greensboro. All these services are now available at a great savings for any size business.
---